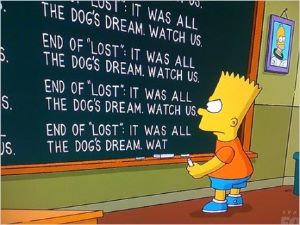 "What lies in the shadow of the Statue?"  "Ille qui nos omnes servabit."
E adesso, all'ombra del gran finale, chi ci salverà dall'astinenza da LOST?
Lost è stato un compagno fedele in questi sei anni. Insieme abbiamo condiviso momenti di tensione, suspance, dolore, stupore e attimi di stordimento. Lo abbiamo amato, cercato disperatamente, atteso che ci rivelasse lentamente i suoi misteri, ma dietro ai piccoli barlumi di verità ci ha rivelato ulteriori arcani, simbologie e rompicapo filosofico/esistenziali.
Ad ogni modo, sin dal pilot, il tocco magico di Jacob ha sfiorato ciascuno di noi risucchiandoci inevitabilmente nell'isola per affrontare un lungo viaggio interiore tra momenti di spiritualità, spiegazioni fantascientifiche e abbandono totale all'emotività.
In ogni personaggio abbiamo trovato una parte di noi stessi, un nostro difetto, una frustrazione, una comunione di sensi, un ideale di esistenza. Abbiamo amato prima l'uno, poi l'altro, ci siamo sentiti da essi traditi e riconquistati, fino a non poter fare più a meno di loro.
E adesso che non ci sono più, ci sentiamo abbandonati, delusi dalla mancata risoluzione drammaturgica di tutti i quesiti, avvolti da questa luce mistica e spirituale rappresentata con tutti i luoghi comuni della banalità e del sentimentalismo, cirocondati da quadri approssimativi e superficiali lontani da quella complessità e profondità a cui ci avevano abituati.
Lost l'ho amato col cuore e con la mente, e ho sofferto per il finale, per le spiegazioni non date e per quell'inevitabile abbandono al quale forse non ero pronta e che più mi ha emozionato nel momento in cui Vincent si accuccia davanti a Jack scrivendo figurativamente la parola fine.
Ma qualcosa rimane per sempre, le persone con cui abbiamo condiviso questa esperienza, una grande community legata dalla passione per questo un lungo racconto che ci ha accarezzato con i grandi interrogativi sull'ineluttabilità del destino e sulla forza del libero arbitrio, sul legame tra scienza e fede, sui confini tra il Bene e il Male, sulle ombre che risiedono in ciascuno di noi.
In qualche modo il destino ci ha fatto ritrovare in questa sideways reality e abbiamo dato vita a una community in cui ciascuno, connesso l'un l'altro, ha condiviso idee, visoni del mondo, teorie, conflitti interiori e momenti di ridanciana complicità come la Maratona Lost.
Una delle tante esperienze di vita reale in cui incontriamo tante  persone che si oppongono al nostro cammino, che ci aiutano, che dicono una sola parola, quella giusta, persone che evocano la nostra parte più oscura, altre che ti stupiscono rivelandoti la bellezza del tuo mondo interiore. Le amiamo e le odiamo e questo legame durerà per sempre al di là dello spazio e del tempo. Qualcuno resterà per tutta la vita, di qualche altro rimarrà solo il ricordo, ma tutte avranno lasciato delle tracce indelebili nella nostra vita. La vita è un luogo che si costruisce insieme.
"This is a place that you all made together so that you could find each other"  (Christian Shephard)